The Care Certificate is the national standard for health and social care workers. All new Creative Support care staff are enrolled on this as part of their essential training unless they opt out, which can be done during the Creative Academy Induction live webinar.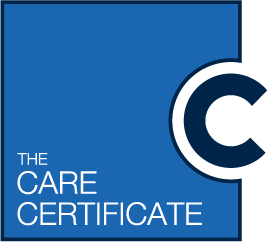 Employees will be able to opt out if they have previously completed a level 2 apprenticeship, diploma or NVQ in Health & Social Care, or alternatively if they have a higher qualification like a relevant degree.
This national certificate has been implemented to ensure:
A consistent and portable framework for induction training.
A competent, caring and compassionate workforce.
The Care Certificate gives everyone the confidence that workers have the same introductory skills, knowledge and behaviours to provide compassionate, safe and high quality care and support.
The Care Quality Commission (CQC) mention the Certificate in regulation 19: "It is expected that providers that employ healthcare assistants and social care support workers should follow the Care Certificate standards to assess their competence"
The Care Certificate sets out the 15 standards below that you will be expected to achieve. These will support you to be effective, caring, compassionate and to provide quality care:
Understand Your Role
Your Personal Development
Duty of Care
Equality and Diversity
Work in a Person Centred Way
Communication
Privacy and Dignity
Fluids and Nutrition
Awareness of Mental Health, Dementia and Learning Disabilities
Safeguarding Adults
Safeguarding Children
Basic Life Support
Health and Safety
Handling Information
Infection Prevention and Control
All employees should complete the Care Certificate within 12 weeks of starting their new role. If you have already been issued with a Care Certificate from another organisation, you will only need to fill in any gaps and add any specialist training. Please discuss this with your manager and provide evidence that they can keep copies of on file.
Visit our Care Certificate FAQs page if you are unclear on anything relating to the Care Certificate. If you cannot find an answer to your question, contact the Learning & Development Team on 0161 238 7664 or by emailing training@creativesupport.co.uk. Our contact hours are Monday – Friday, 9.00 – 17.00.
The Care Certificate Standards require two types of assessment:
Assessment of knowledge and understanding: To be completed by staff member via e-learning or workbooks.
The new employee will complete this online (or by a paper workbook if preferred). They will receive an email once they have been enrolled on the Care Certificate knowledge aspect through our online learning platform, Bridge.
Assessment of performance: To be completed by the staff member's manager.
The new employee's manager will complete the Competence Record after the employee has completed the knowledge aspect. There will be instructions on how to do this at the end of the Knowledge aspect.