Frequently Asked Questions
If you do not find your answer here, please contact us by calling 0161 238 7664 or sending an email to training@creativesupport.co.uk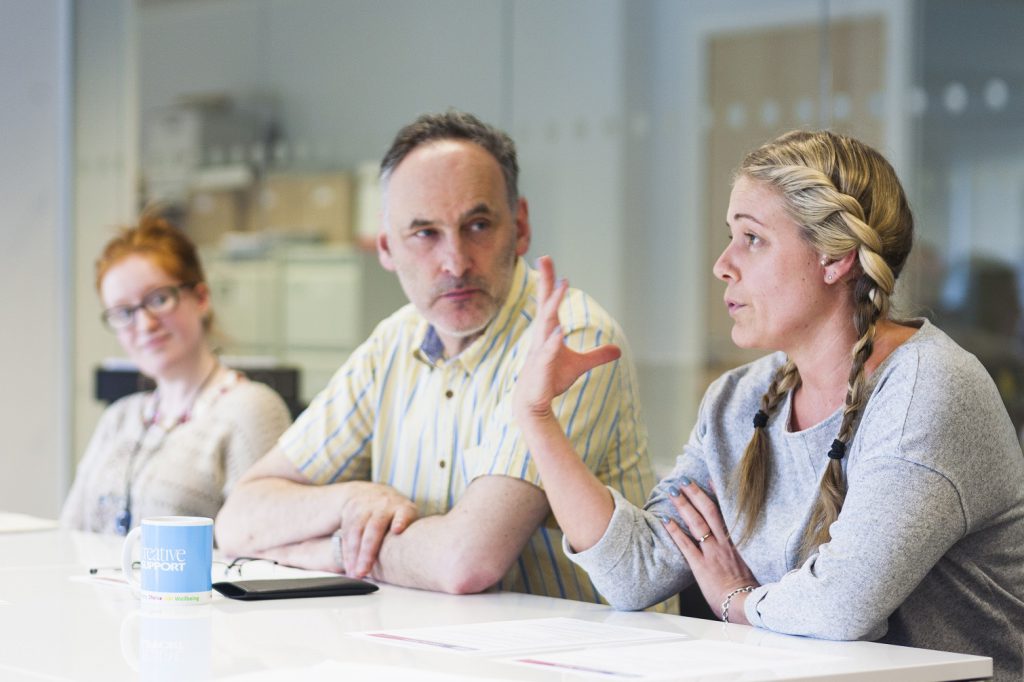 I can't find the training I'm looking for on your list of courses. Is there any chance you offer it?
Given the wide-ranging experience of our team of trainers, we couldn't possibly create a completely exhaustive list that encompasses all the training they can offer. If you are trying to source training in something specific that isn't listed in our catalogue, please get in touch with us either over the phone or by email.
Where will my course be taking place?
Once you have been booked on one of our training courses, you will receive a confirmation email that contains the venue for your course, as well as the date and time that it takes place. If you are struggling to find the venue or require any further information, please don't hesitate to ring us.
I have been booked on an e-learning course. How do I access this?
Our e-learning platform is called Bridge, and you can click here to get to the login page. Once we have created your account, you will receive an email with the subject line – "Welcome! Learning awaits". This will contain your username (referred to as a "Login ID") and a link to set up a password, which you will have to do before you can log in for the first time. Separately to this, you will receive an email for each course that is added to your account, and each of these emails will contain a link taking you directly to the course.
Creative Support employees should note that their username for Bridge will be their 6-digit employee number.
I can't attend the training I am booked on – what should I do?
Please get in touch with us as soon as you become aware that you won't be attending our training so we can see if another delegate can take your place. To speed things along, we would ask that you call us to cancel your space on the training, but if you need to let us know outside of office hours, then please send us an email with "Urgent" in the subject field.
Is lunch provided for training courses?
We cannot provide lunch for our delegates. Our half-day courses will have one short break halfway through, and our full-day courses will have a short morning and afternoon break, as well as a longer lunch break around the halfway point. Tea and coffee will be provided throughout the day.
What exactly is e-learning?
When we say e-learning, we are referring to the training courses we have developed that are accessible via our online learning platform, Bridge. These are interactive courses that you can complete in your allotted time – for Creative Support employees, e-learning courses tend to be booked on a monthly basis (i.e. you get a month to work through your booked e-learning).
If you are using a mobile phone to access e-learning, please ensure that you are connected to WiFi so that you don't exceed your mobile data plan and incur a charge from your provider.
I have particular requirements when it comes to my learning (e.g. I require a certain colour of paper for any handouts). Will these be taken into account?
Personal learning needs will always be taken into account by your trainer.
If you are a Creative Support employee, you can make us aware of any such requirements confidentially in advance of your training
taking place. The best way to do this is to log into the Employee Self-Service (ESS) portal (the same system where you can access your payslips), click on the "Personal" tab at the top-left of the screen and under the "My Personal Details" heading select the "Special requirements" option. These details will not be shared with any other delegates on your training course.
If you are not a Creative Support employee but are booked on training with us, please do not hesitate to get in touch with us ahead of time by calling 0161 238 7664 (Mon-Fri, 9.00-17.00) or sending an email to training@creativesupport.co.uk.
I am not computer literate but the training I am booked on is computer-based. Can I get support to access and complete this?
Yes we can support you.
If you are based in the Greater Manchester area, we can arrange for you to visit our training office in Stockport where you can use one of our computers to work through your e-learning. Trainers and administrators will be on-site and available to guide you through any issues you face with the courses, whether these be issues relating to comprehension or technical difficulties.
If you are based elsewhere in the country, we will do our best to source a venue where one of our team members can come along and guide you through the e-learning you are booked on.
What is a webinar and how do I access these?
We deliver training by webinar over Zoom. Webinars are live, interactive sessions where learners can ask the trainer questions throughout, and in this sense they are more similar to classroom-based training than our
e-learning courses are.
You will need a microphone/camera in order to really engage in the session. You will not be registered as having attended without this equipment.
Creative Support staff can fill in an application form and submit it to training.applications@creativesupport.co.uk to be booked on a
webinar. The webinar calendar can be found here. After being booked on a webinar, you will receive a link over email that you can use to access it. Given that these webinars take place over Zoom, we recommend you download Zoom on your device ahead of time if it is not already installed. You can download it here.
If you have not received the webinar link email by 1 working day before the webinar takes place, please get in touch with us to request it be re-sent.
If you are using a mobile phone to access a webinar, please ensure that you are connected to WiFi so that you don't exceed your mobile data plan and incur a charge from your provider.
If you do not find your answer here, please contact us by calling 0161 238 7664 or email training@creativesupport.co.uk